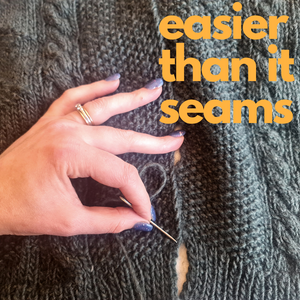 Knitting Classes with Jasmin
Easier than it seams
It's easier than it seems to finish your knitting projects with a neat and professional looking seam!
In this class we'll cover several techniques used for joining pieces together, including:
- Kitchener Stitch grafting (used for a smooth and seam-less finish)
- Matress Stitch (how to avoid puckering and ensure your joins are smooth and invisible)
- Three Needle Bind-off (for a sturdy and decorative join) 
  Do you have an unfinished project - or ten! that need joininng? Bring them along to class and we'll workshop the solutions and techniques that will give you a best-in-show result.
 Class will be held at The Barker Hotel, Gawler St Mount Barker. - just ask for Purl and Friends.
   Sunday November 6th, 3pm-4:30pm
Your ticket includes a coffee/tea and there will be plenty of time after class for chatting and social crafting.
---
We Also Recommend